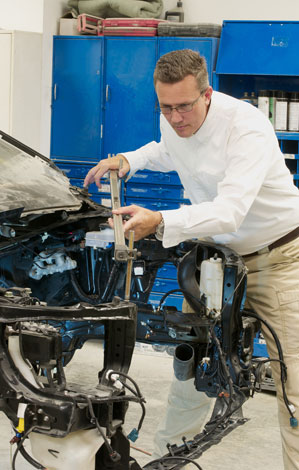 Expert Auto Body Repair & Paint
From scratches to dents to major impacts, the craftsmen at Sports & Classics Auto Repair Service NYC use their knowledge, experience and precision equipment to bring renewed life and luster to the interior and exterior of every foreign and domestic automobile made.
Our auto body repair specialists focus on every detail in every job they undertake. Our expert auto body repair and paint craftsmen ensure that every motor car leaving Sports & Classics exterior finishing shops is a work of art.
Precision body painting is done in an airtight, dust-free environment using high-tech spray paint booth technology with infrared drying. Auto Repair Service NYC auto body repair shop maintains a vast database of paint formulas, colors and hues that includes every paint formula ever utilized. Exterior paint coats are matched with the use of a color analyzer, with two gallons of different tints and colors that are identically matched to one, one-hundredth of a gram.
The craftsmen at Auto Repair Service NYC by Sports & Classics settle for nothing short or perfection.
Let us help you make sure that all of the damage to your auto is properly listed on your insurance damage estimate to ensure that your auto body repair is going to include everything needed to return your car to its pre accident, or damage condition.
Do not let a mistake or omission on your auto body repair damage estimate come back to haunt you  after your car has been repaired.
We Are Auto Body Repair Experts
We know how to work directly with your insurance company to provide all of the necessary auto body repair damage estimate forms and information to make sure that all of the damage to your car is fixed right the first time.